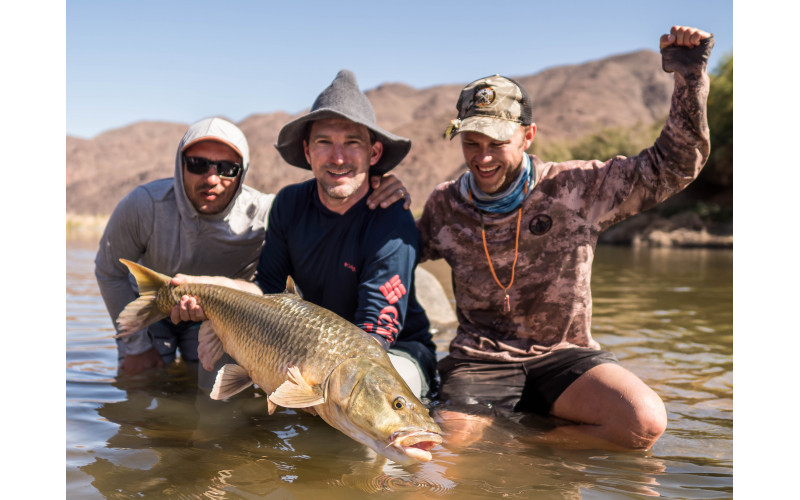 Fat Slabbies - Orange River 2021
Posted by
Luke Pannell
Feb 22, 2022
Stories
Some fish are burned into your memory. The seconds before it eats, the minutes after you've released it, all crisp as if it had happened yesterday. With every big fish story, there has to be a struggle before the victory. This story is no different. 
In 2020 I was first introduced to the "Fat Slabbies" group. They joined us for a week-long drift along the lower Orange River and were by all accounts spoiled with great fishing. Look, they aren't slouches. They can all fish and everyone in the group has a desire to work hard and persevere. Who could have known just how important those characteristics would be 12 months later. 
Fast forward a year and the landscape had shifted. The river was no longer gin clear, the temps were sitting lower than in previous years and we were battling consecutive cold fronts throughout the season. Over the weeks leading up to their trip I was asked a range of questions by the group, and as much as I tried to level with the guys, everyone arrived with high hopes (It would be difficult not to, considering the insane fishing everyone experienced just a year before).
However, by the end of Day 1 the levels of optimism had been severely dashed. A combination of our worst stretch of water (typically we encounter more fish further down river), difficult conditions and the reality check of fishing a river recovering from huge floods meant that the guys had struggled and were slightly despondent. As guides we knew what faced us. The truth is that fishing with streamers in those conditions can be really challenging. You know there is a chance of hooking into a great fish but you also know that the effort to reward ratio is stacked against you. You have to fully commit to the cause. Coming to terms with the fact that you might not hook or land that fish of a lifetime, no matter how hard you work. 
Over the next two days the group bounced between streamer fishing and some nymphing. Both produced fish with a couple smaller Largemouth Yellows coming to hand and some reasonable Smallmouth too. The nymphing, as is the norm, was very effective and everyone was able to tick over numbers each day. It was natural for the group to compare trips and we all got caught up in this. Both Kevin and Nick C had been given opportunities with really big fish the previous year. Nick specifically had lost a fish that to this day haunts us. 
At times optimism can be a curse and at others it can be a huge strength. Day 4 arrived, our last full day of fishing, and up until that point the bigger fish just had not been moving. Myself, Nick Carkeek and Ross Jenkinson were paired up and headed out for the day. We chatted briefly about the expectation for the day and which approach we would take. I can't explain it. I had such a strong belief that we would find a big fish that day, that all I could say to them was "It's happening today!". I went so far as to tell Nick that I knew the spot and I knew the fly that would do it. The specific spot, The Gutter, was in the last kilometer before camp that evening. The plan, built around fishing The Gutter at the right time of day, involved stalling ourselves as much as possible and essentially acing ourselves. 
By lunch we had two fish on the board and things were looking bleak. The night before we had seen a massive mudfish spawn and, as is so typical, the next day the whole river seems to shut down. Still, we had a plan and we had committed to it. We slowly worked our way from lunch down to the chosen spot. Once there, new leaders and flies were tied on. The fly I had mentioned earlier (left to me by Chris Binnington after it accounted for some big Largemouth the previous week) was pulled off my hat and tied onto the end of Nick's tippet. The guys got into position and started casting. Nick can cast, and after placing the fly expertly against the rock shelf, he slowly started to work it back. I still have the image in my mind of Nick crouched down, roly-poly retrieve underway, when suddenly the line stopped.
The next few minutes were as tense as any. The fish peeled line off his reel, deep into his backing, and probably made it 100-130m down river before he finally stopped it. The area is full of boulders and to knit the fish through them takes care and patience. When the fish finally appeared in front of me I knew immediately that it was the biggest fish of the season. Finally in the net, we were all able to appreciate the fish that was in front of us. A true trophy and a fish that anybody would be lucky to cross paths with. 
Back in camp, Nick's close friend Kevin had thrown in the towel already. When news reached camp that a 20lb fish had been weighed and released, Kevin outright ignored it. To his credit, and in fact the whole groups, everybody was equally over the moon and it was only the following morning that we saw a competitive streak show itself. 
At breakfast Kevin announced that he was going to catch a Largemouth bigger than Nick's that morning. Bare in mind that while there is amazing water on Day 5, we only fish for close to four hours which means your chances are limited by time. In any case, myself, Kevin and Nick P jumped onto our raft and headed out for the morning. The standard morning prep of new leaders, new flies and a game plan were out the way. We knew there was realistically only two places that a big fish would come. I raced to get us to the first spot before any other boats and disturbed the water.
Salticrack tail-out has produced a number of good fish and as guides we have seen really big Largemouth moving in that area. We fish it off the boat, slowly drifting and fishing to the structure either side of us, before anchoring right in the tail out and swinging flies. Half way down the stretch and Kevin's muishond was 'tapped', two strips later and he had another eat, this time he set and the line went tight. 
It's a weird feeling as a guide when you see line peeling off someone's reel and you realise that they are hooked into a fish of a lifetime. There is only so much you can do once the client is hooked into the fish and most of the time, especially if the angler knows what they are doing, the best thing to do is get out of the way. The tail-out of Salticrack is a big V with a large rapid below it, watching the fish swim towards the rapid I knew that if it made it there we would lose it. By some miracle the fish decided to stop and turn around rather than going down the chute. As with any big fish, you need some of this luck on your side. 
Once we had the fish close to the boat the rest of the group had paddled close to us and were all watching as their friend battled. As soon as the fish hit the net screams erupted from every boat. It was huge. Another monster. Just as Kevin had promised he had managed to land an ever bigger fish, this one just under 24lb. The fact that all his friends were there to witness it made it that much more special. The group picture, which can be seen on our Home Page is iconic and represents the shared excitement and euphoria a moment like this has on a group. To be a part of both fish and to see how much it meant to both guys was inexplicable special. They go down as two of the most rewarding fish I have seen landed.
The 'Fat Slabbies' left their week with an appetite for more. Both Kevin and Nick have shaken the monkey off their back but for the rest of the group 2022 is another opportunity to follow suit. The river has once again been through some horrendous flooding and to expect the world class fishing of pre-2021 would be naive. However, this week, along with many others from our last season goes to show that the river is still healthy and capable of producing moments that belong in someones bucket list.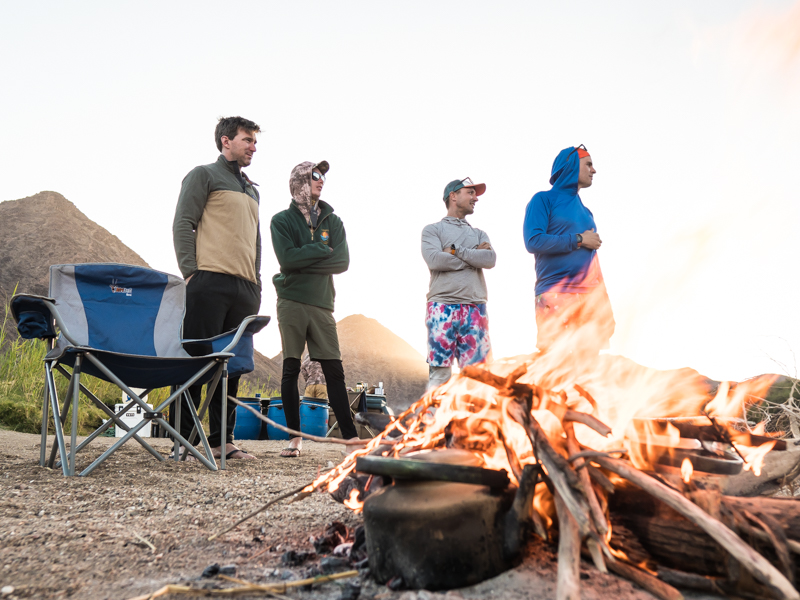 Spirits were high at the start of the trip!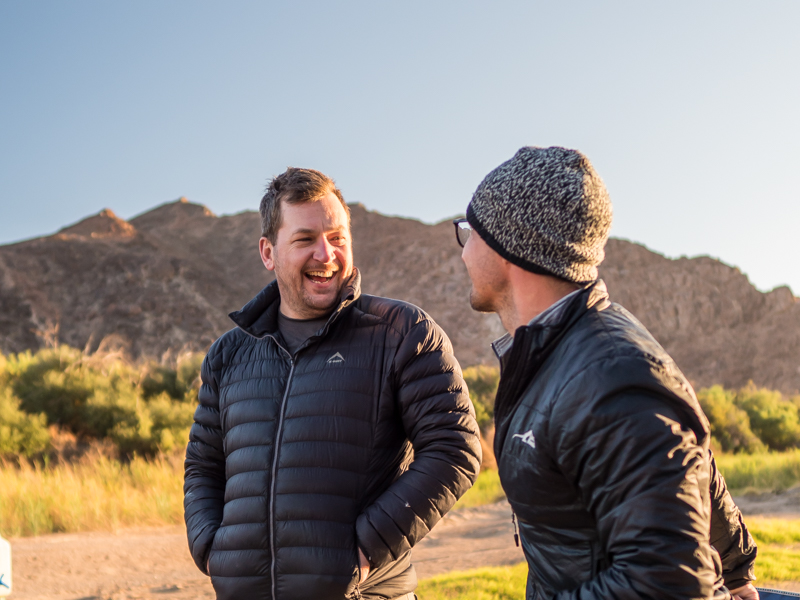 Nick C and Andrew share a joke on the first morning of the drift.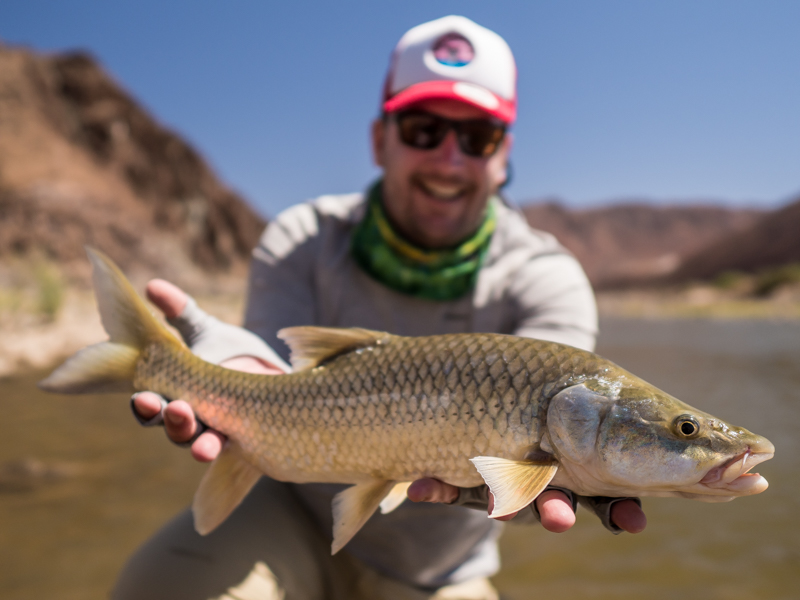 Andrew with a perfect juvenile Largemouth Yellowfish, one of two he picked up in the morning session while swinging streamers.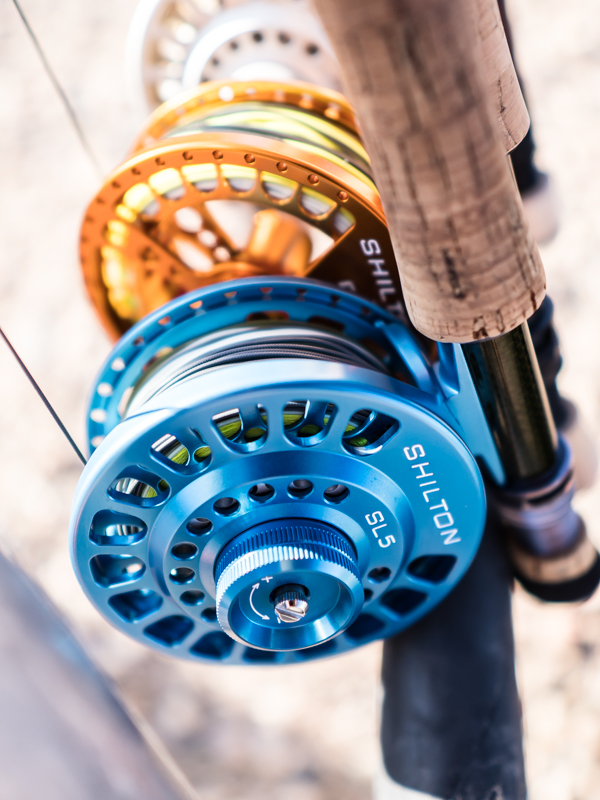 Shilton's, ready to stop anything that dares to run.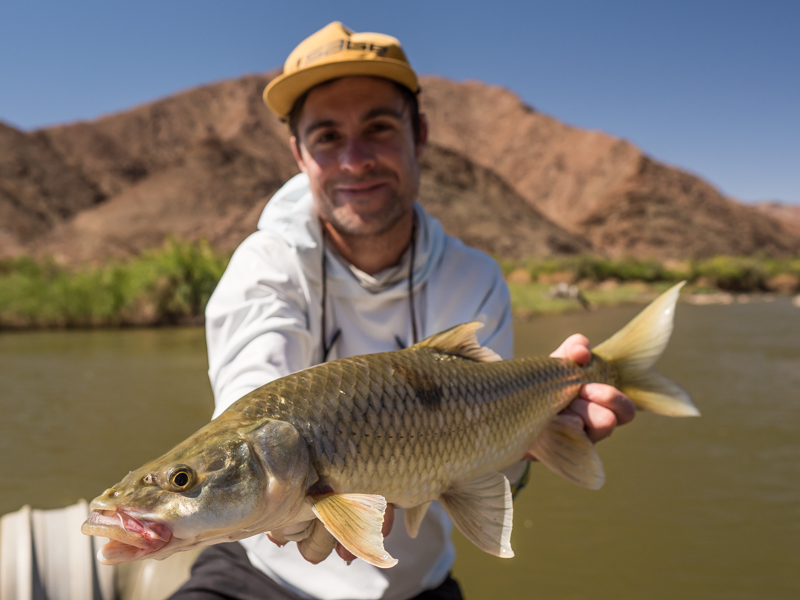 Ryan managed to tick off his first Largemouth after persisting with an olive baitfish pattern.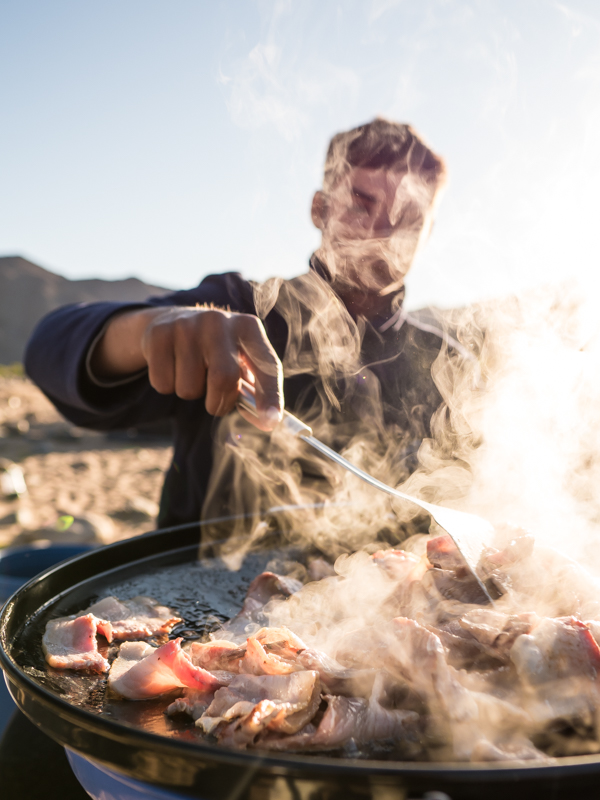 Gary takes care of bacon duty on the 2nd morning.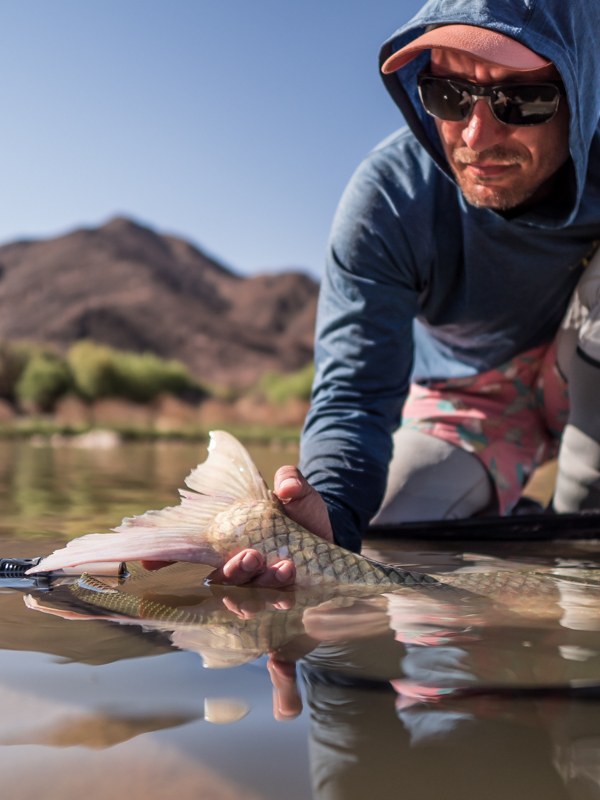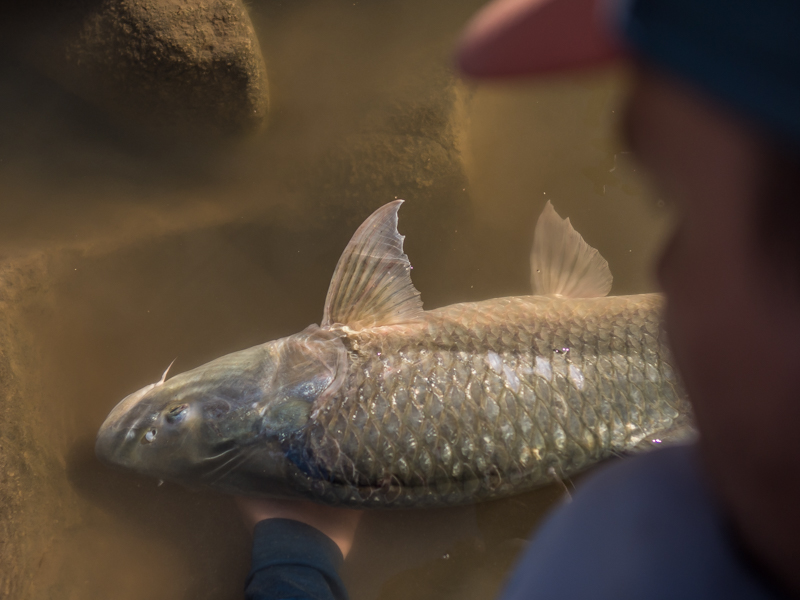 Nick C admiring the fish of his dreams, in every sense of the word!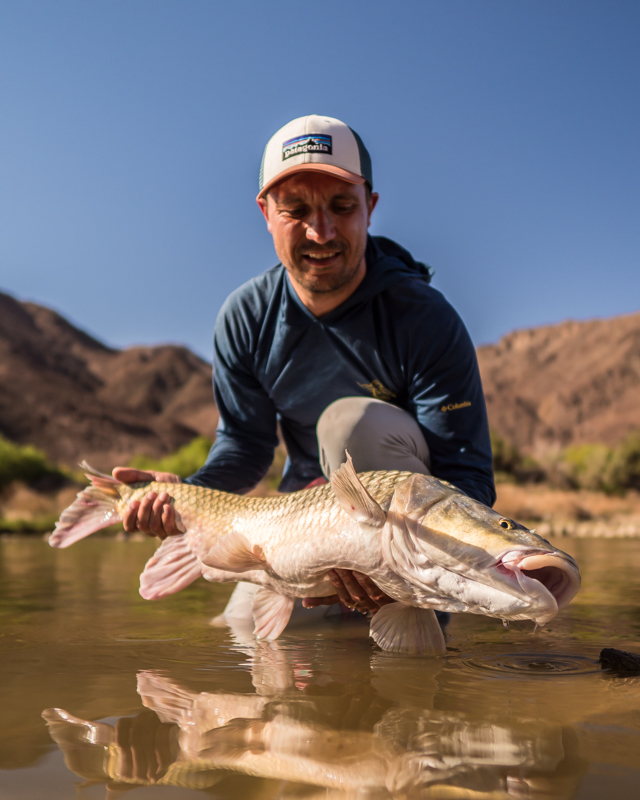 It really was a brute, and like any big fish it commanded respect.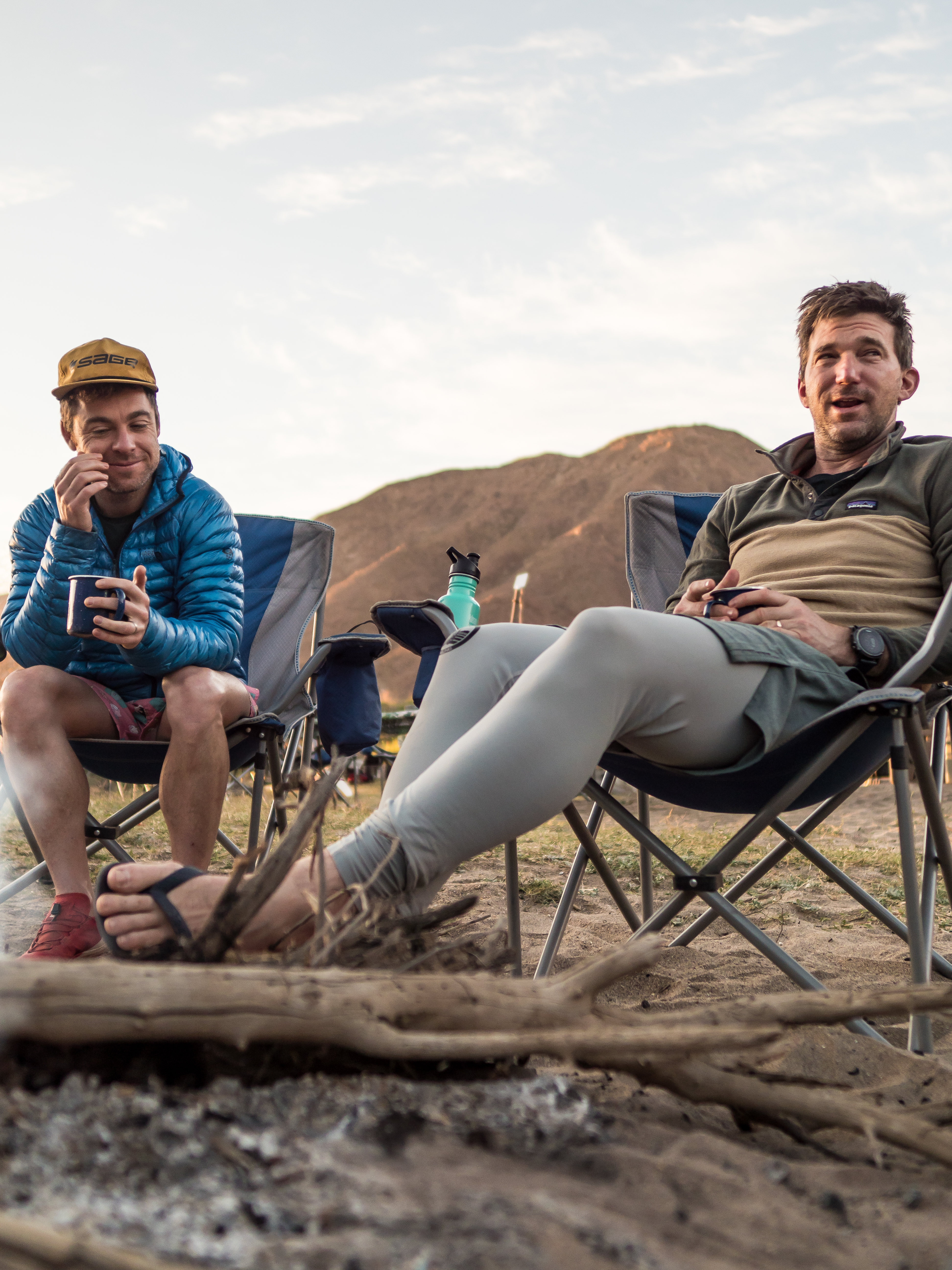 Kevin and Ryan, both looking slightly worse for wear. Kevin was busy explaining to the group just how big a fish he was about to catch.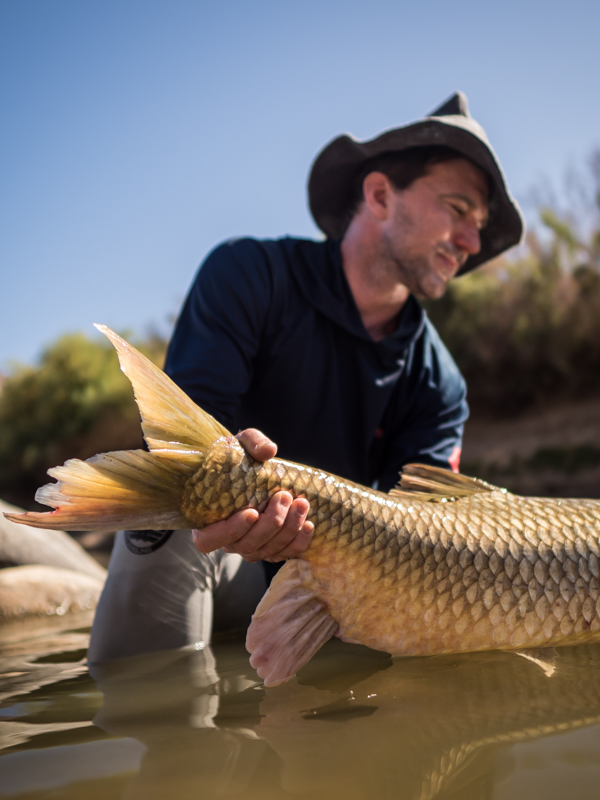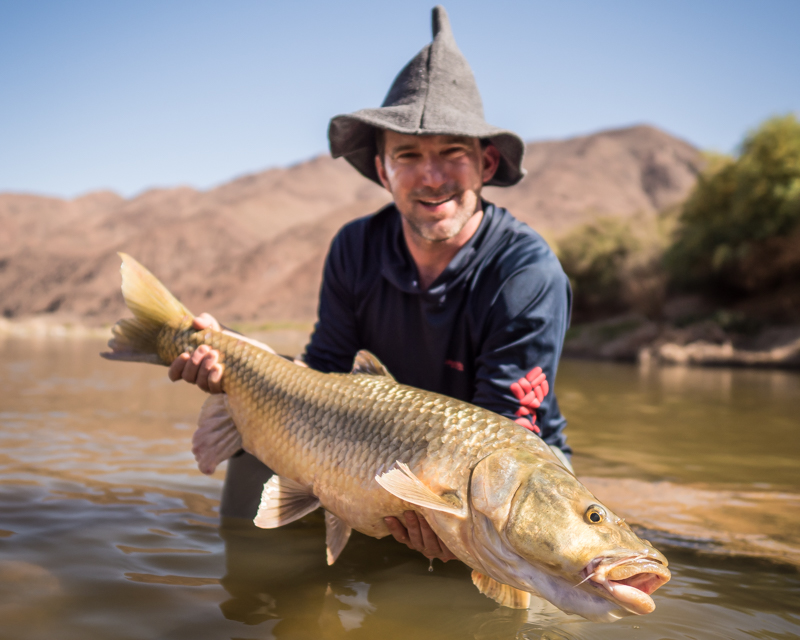 Speak it into existence! A true dinosaur and more fish than most will ever encounter.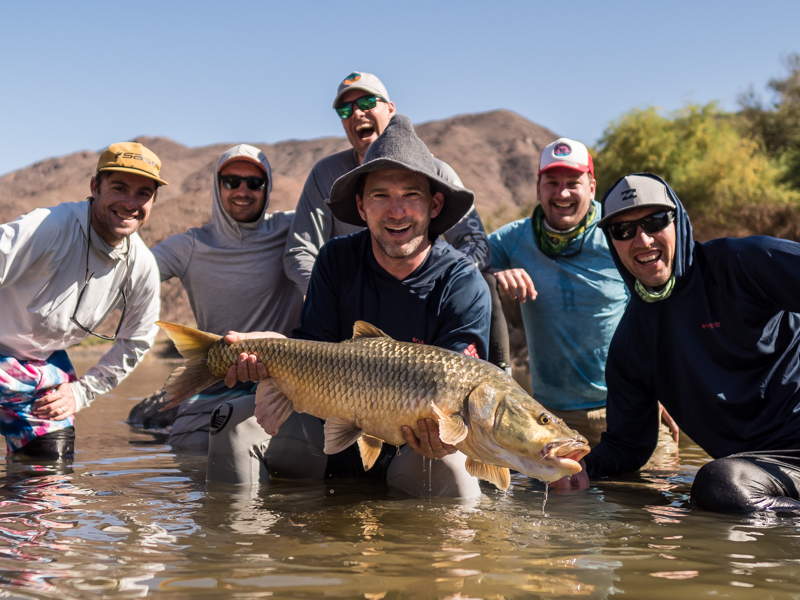 The "Fat Slabbies" of 2021, in all their glory! The fact that everyone was present, to watch Kevin land the fish of his life, made the whole moment and week that much more special. This was a fish for everyone and could be the ultimate show of a 'Boys Trip'.
'Fat Slabbies Tour of 2022' has some big shoes to fill!